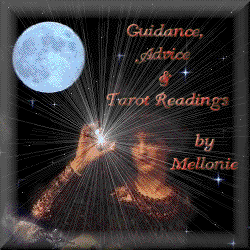 Welcome

to

Spiritual Visions

Online Shop

Hi, and Welcome. My name is Mellonie I. Taylor, aka Avalonea, Spiritual Advisor and Intuit.

Perhaps you have ventured here because you met me from an in person reading, online in my IRC Chatroom #Spiritual*Visions located on the Sorcery.net server, an online auction or through
The Realms of Love & Light Website
. No matter how you found your way to this page, Im so glad you dropped by.

Love & Light to you overflowing.

Visit the main website at the Link above for more info about me. But if you are ready to have a Tarot Reading or join one of my online chatroom classes. This is where you can purchase your online readings or one of my classes on spirituality.

Scroll down to find what ever service you would like to purchase. Also Please follow the link here to join
Spiritual Visions MSN online Community
. This will keep you up to date as far as dates of Classes, times I will be online, and our email group. The email group, is a wonderful way to keep abreast of what is going on with myself, Spiritual Visions and The Realms of Love & Light.

Thank you once again for stopping by, if you have any questions you can email me at:


or


If Im online right now..click and chat with me.

Below you will find all the services offered through this special page by Mellonie I. Taylor, OM. Enjoy your visit and stop by often as new things will be added often.

Tarot Readings $10.00

Do you need guidance, advice or an answer to a question.

Whether about love, finances, career or health, I can guide you. My intuitive abilities are proven over the years to be very accurate. This can truly be a positive and enlightening experience.

Whether you wish to have an email, live chat or phone reading.

(all phone readings have to be on your dime)

Click on this Paypal button to purchase your $10.00. Tarot Reading.

Please include your email addy along with purchase so that I can contact you as soon as I receive payment.


Lessons From Spirit Study Guide $8.00

Purchase an email copy of my book, Lessons From Spirit. This book is mostly channeled material I received from my Spirit Guides through auto writing as I began my path to spiritual enlightenment. This wonderful book is both uplifting and helpful to the enlightened as well as those wishing to be more enlightened. This book is used in my online classes given on IRC Sorcery.net server in #Spiritual*Visions chatroom and also at the Love & Light Community chat if you dont have IRC. You may purchase the book alone, it will be sent to you via email, once I receive your payment, or you can purchase book and class together, and be all set for the next class. A new class begins every month.

Lessons From Spirit Email Study Guide $8.00


Lessons From Spirit Email Study Guide & Online Class $20.00

The class price includes book and the 4 week course


Special offer for Class participants

This special offer includes

The Lessons From Spirit Email Study Guide

The Lessons From Spirit Online Class

&

A 10.00 Tarot Reading by Mellonie

all for

$25.00

Include your email addy with purchase



Below is a List of all Links associated with Mellonie and her Websites. Please visit them all.


Bio, info, channelings, guidance, messageboards,chat and much more


Chat, messageboards, email group, calendar of events & more


Chat, email group, calendar of events & more

Dont forget to visit me live online at Sorcery.net on IRC, #Spiritual*Visions channel




Thank you so much for visiting. Know that anytime you are in need of my help or guidance Im only a click away.

Love & Light overflowing your way,

Mellonie I. Taylor, OM


copyright Spiritual Visions Designs

copyright 2002